Low-profile athlete, calm and determined in parallel, that's how people describe Byron Kokkalanis. His eyes and his mind are set on a target, the Olympic Games in RIO 2016.

The results of Byron Kokkalanis in the very demanding class RSX, showing his upward trend:

2014 World Ranking ISAF RS:X (Men) - 1st
2014 China ISAF Sailing World Cup RS:X - Gold Medal
2014 Mallorca ISAF Sailing World Cup RS:X - 2nd
2014 Abu Dhabi ISAF Sailing World Cup RS:X
2014 Miami ISAF Sailing World Cup RS:X - 1st
2013 European Championship - 1st
2013 World Championship - 3rd
2013 Delta Lloyd Regatta - 2nd
2012 London Olympic Games - 6th
2012 World Championship - 5th
2012 European Championship - 2nd
2011 World Championship - 7th
2011 European Championship - 2nd
2010 European Championship - 2nd
2010 42nd S.O.F. Hyeres - 1st
2010 Trofeo S.A.R. Princess Sofia - 1st
2009 World Championship - 5th
2006, 2007, 2009, 2010, 2011, 2012 Athens Eurolymp Week - 1st
Born in Athens on August 19, 1985, Byron Kokkalanis, athlete of N.O.T.K. today, he trains and fights solely on Windsurfing (on Mistral class up to 2004 and then on RSX) from the young age of 13, always with the same coach, Dimitris Pilihos. At the minimum free time out of his demanding workout and training program for the Regatta, you will find Byron again to ride the waves with his surfboard.

At the age of 30 years today (2015) Byron has achieved more than any other Greek athlete surfers at his age, and is deservedly one of the most talented athletes in Greece today. The very good results as of today is a consequence of the combination of source of talent and focus and above all the systematic and hard work, made possible with the support of all those who believed in Byron.

Byron Kokkalanis is a member of our Yacht Club

Thank you Byron!






click on photo to enlarge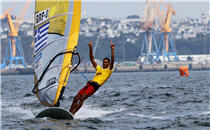 click on photo to enlarge


click on photo to enlarge